100% Online Enrichment Program — Students Develop Skills in Business Growth, Sales, Digital Marketing, New Revenue Generation, Financial Literacy, and Productivity
Join Over 400,000 Students Inside!
Coursenvy.com was founded in 2015 and created the modMBA program to teach students the skills that are required to excel in today's modern business world.
Students learn the most in-demand skills inside the modMBA and get access to ALL of our Coursenvy courses (a $5,000+ value sold separately): https://www.udemy.com/user/coursenvy
Udemy enterprise plans charge $360 per user annually and offer no 1-on-1 support like we do! Subscribe with us directly and save on our top-rated modMBA course bundle!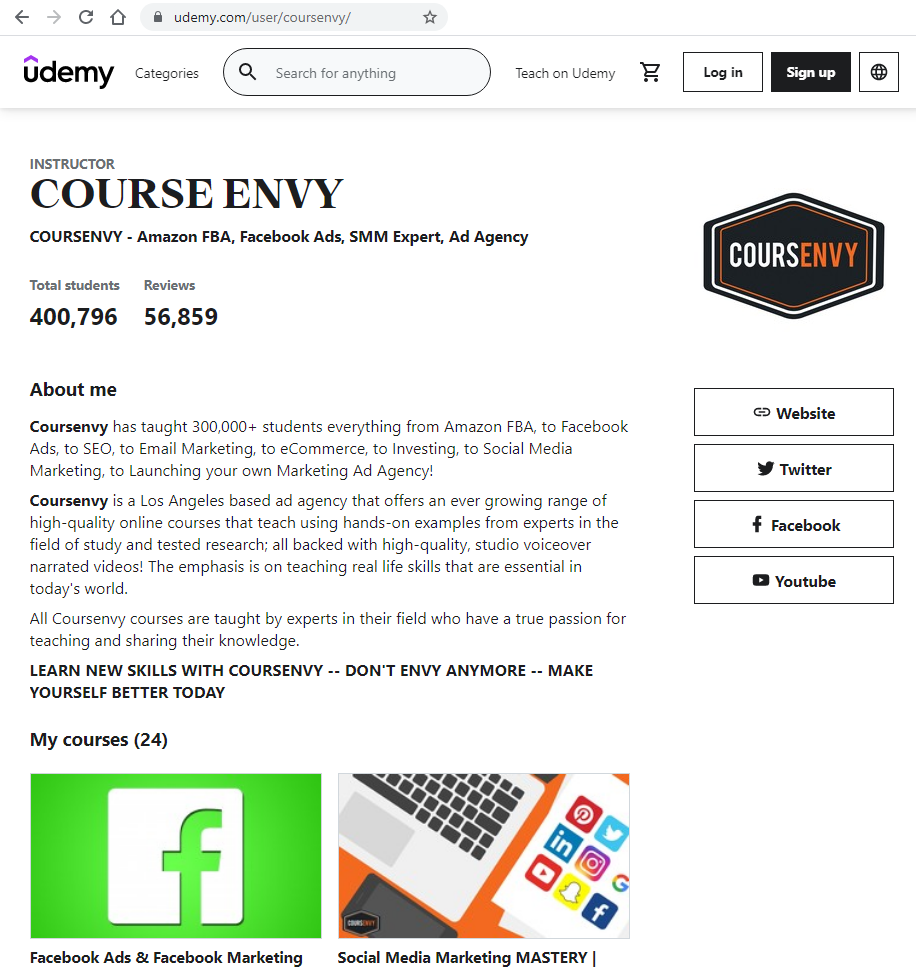 Click the Email Link Below to Contact Us Today:
Loved By 400,000+ Students
"The business pitch challenge was a hit… so many new ideas created by our students! Your courses taught marketing strategies that not only increased sales but also expanded our customer base. Plus we reduced ad costs and increased our ROI by implementing retargeting! Mind blown! Thanks again, Justin!" ⭐⭐⭐⭐⭐
"I just wanted to let you know that it was one of the best investments I ever made, I have received at least 100x ROI." ⭐⭐⭐⭐⭐ -- Christos Orfanidis
"By far the best direct and to-the-point information available for the money and lots of it. I'm extremely impressed. I personally love when there's too much info for my brain to keep up because that means I got a lot for my money." ⭐⭐⭐⭐⭐ -- Jeff Shem
"Honestly, this was an amazing course! I learned so much and finished it from beginning to end feeling empowered and ready to take action on my entrepreneurial endeavor. The instructor Justin O'Brien is remarkable and I don't say that lightly." ⭐⭐⭐⭐⭐ -- Rene Leiva
"Coursenvy's modMBA was a real eye-opener for me! Each module was constructed very carefully and thoughtfully. I felt it was a great attribute to my learning experience. I especially enjoyed the special weekly exercises, which personalized the experience for me. The Capstone Project was great too." ⭐⭐⭐⭐⭐ -- Nicole Yeager
"Thank you for this course. I am completely new to Entrepreneurship, yet not totally clueless. This course gave me many things to consider from the true 'business' aspect vs the 'i have a great idea' aspect. What I appreciated most was that I could keep up. Some was a bit over my head, but that showed me where I need to research and 'stretch' myself, but most was very understandable for me as a newbie." ⭐⭐⭐⭐⭐ -- Pamela Dees
"This course is comprehensive. Loads of content. You need to take your time and work at it over several days. It will help if you have a particular ad campaign in mind to relate the info to. The instructor shared lots of practical tips gained from running different types of ad campaigns. If you are serious about using FB ads and not sure where to start then this course can really help you." ⭐⭐⭐⭐⭐ -- Mervyn Smallwood
"I am launching a new platform this year and this was my first business class. I found that it gave me a great framework to understanding the world I am entering. While I still have much work to do this has allowed me to focus my energies in a productive manner. Thank you!" ⭐⭐⭐⭐⭐ -- Aaron Council
"Enjoyed every section. Every section was interesting and added more value while I worked on the side to apply my knowledge to whatever I kept learning. Thank you for such an insightful course! Keep creating great content!" ⭐⭐⭐⭐⭐ -- Jumana Hussain
Courses Included


✅ Upskill your organization in our top-rated, constantly updated, online courses! Plus all students get access to our private support community!


✅ Your students will first create a mock business/new revenue stream via our modMBA Capstone Project (the perfect idea generation and problem-solving project).


✅ Next, students will get access to ALL of our Coursenvy courses to continue learning (including our top 10 digital marketing certification courses)!


✅ All of our courses are asynchronous, enabling learning on your schedule! Our 100% online courses include self-guided modules, pre-recorded video content, and lecture assignments! After finishing each course, students will receive a Certificate of Completion.
✔️ Entrepreneurship: Idea to Launch + The modMBA Capstone Project (Students who complete this module will create and pitch their business idea to venture capitalists for a startup investment!) - 25+ lectures, 3+ total hours
—
✔️ Financial Literacy - What I Wish I Learned in School - 1+ total hours
—
✔️ The Online MBA Alternative (We created a perfect clone of the traditional MBA curriculum in the form of free to audit courses offered by top-tier universities like Wharton Business School, University of Michigan, Johns Hopkins University, Harvard University, and more!) - 11 sections, varying total hours
—
✔️ Facebook Ads & Facebook Marketing Mastery - 100+ lectures, 10+ total hours
—
✔️ Social Media Marketing Mastery - 90+ lectures, 8+ total hours
—
✔️ Instagram Marketing Mastery - 20+ lectures, 2+ total hours
—
✔️ Search Engine Optimization (SEO) Mastery - 20+ lectures, 2+ total hours
—
✔️ Email Marketing Mastery - 30+ lectures, 4.5+ total hours
—
✔️ Etsy & eCommerce Mastery - 20+ lectures, 2+ total hours
—
✔️ Amazon FBA Course - How to Sell on Amazon from A to Z - 60+ lectures, 4+ total hours
—
✔️ Advanced Amazon Marketing - The Complete Amazon Ads Course - 20+ lectures, 2.5+ total hours
—
✔️ How to Start an Advertising Agency - 20+ lectures, 3+ total hours
—
✔️ How to Invest in Stocks + The Billionaire Investing Course - 10+ lectures, 1+ total hours
—
✔️ Real Estate 101 - 10+ lectures, 1.5+ total hours
—
✔️ Cryptocurrency Mastery - 20+ lectures, 1+ total hours
—
✔️ The Complete Kickstarter Crowdfunding Success Course - 1+ total hours
—
✔️ How to Build a Website & Lead Capture Pages - 1+ total hours
—
✔️ The Complete Shopify eCommerce Course - 1+ total hours
—
Each student will get access to the over $5,000 worth of courses listed above!

Learn from Tenured Business Owners
Our curriculum creators have launched and invested in over 30 startups (including Lyft, Udemy, Lambda School, Italic, and more)!
Follow our self-guided modules, video content, and action-packed assignments!
Collaborate with New Friends
Engage with other like-minded students in our private community!
Students can submit questions via text or audio in our private support community. You get 24/7 access to our private support community and can ask unlimited questions inside!
Reflect to Grow
The skills to invent the future aren't taught in school, they are taught in the modMBA! Your organization's members will take what they learn in the modMBA and relate those lessons to everyday life!
FAQs
What will I learn?
The modMBA is a top-rated enrichment program and MBA alternative for students who want to learn how to grow businesses alongside industry pros. The program is 100% online, in a safe, secure learning community.
What is the time commitment?
You can partake in this 100% online program at your own availability, the training will be ready when you are. As with anything, the more time you can dedicate, the better.
When do I get access to the course?
As soon as you purchase the modMBA, we will create a custom enrollment URL for you to share with your organization's members (that URL will allow the payment plan total number of students you purchased to signup for the modMBA individually). That custom link will allow users to enroll in the modMBA and receive certificates of completion for each course completed -- ALL hosted on our secured Teachable LMS. As long as you are enrolled in an annual plan, your students will get access to the modMBA and every course update ongoing.
Is this for college credit?
The modMBA is approved for college credit (worth 2 graduate credits). All you need to do is simply pay for the credits separately via Fresno Pacific University. Most students opt to take the modMBA without college credit.
I'd prefer an invoice, is that possible?
Yes, checking out on this page is for credit card or PayPal only. We can also send you an invoice to pay via ACH, Debit, or Check. Email us [email protected] or feel free to book a call with us for further questions: https://calendly.com/coursenvy
May I get a demo login?
Yes, email us [email protected]